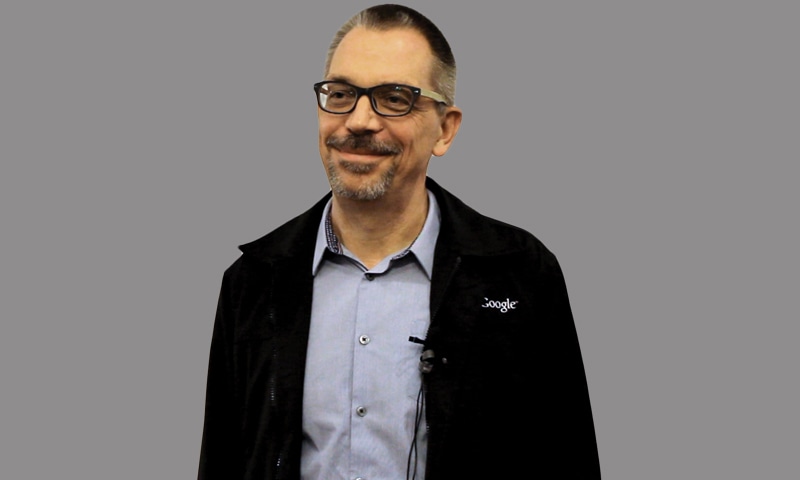 Dr Frank Peter, Corporate Trainer for Digital Transformation and Digital Marketing, was in Karachi recently to conduct a series of workshops on behalf of Octara on social media marketing and digital transformation. In this interview, he talks about the critical importance of digital adoption.
ZEENAT CHAUDHARY: You have held three workshops related to digitisation in Karachi, one of which was on digital transformation. What is the value of digital transformation?
FRANK PETER: Many people use the term 'digital transformation' quite liberally. They will pepper in words like 'algorithm', 'machine learning' and 'AI' in a conversation without knowing what they mean. Businesses need to realise that digital transformation is (and should be) customer-driven. In other words, if you want to make money, you should enhance your customer experience via digitisation. This is all the more important because people have more choices than before, and whether you work in banking, retail or dining, you need to convince potential customers to choose your brand; and you do this via digitisation.
ZC: Which sectors in Pakistan have adapted to new technologies the fastest?
FP: The financial sector (banks, insurance companies) is probably the most advanced because they have no choice but to up their game to keep up with the competition. If you are a customer seeking a new credit card, a fast and convenient online process will trump a 30-day long, in-person paper application process. For agricultural and other labour-intensive sectors, digital transformation is slower because in this segment, labour is cheap in Pakistan and therefore implementing digital systems will end up being more expensive.
ZC: Is this one of the reasons why emerging economies have not digitised their agri-based businesses?
FP: Definitely. In Germany, labour is exceptionally expensive and there are labour laws, so you cannot make people work overtime without paying overtime, which is why companies opt for automation.
---
Consumers come across hundreds of ads in a day, most of which they will ignore or not believe. Instead of using celebrity endorsements, ask past customers to share their experiences about the service or use micro influencers, who may only have 3,000-5,000 followers (as opposed to a celebrity with millions of fans) but are considered authority figures among their followers.
---
ZC: Why are people resistant to digitising their organisations?
FP: Everyone knows digital transformation is important but top-level executives are hesitant because of fear of the unknown and giving up control.
ZC: How do you change this mindset and the "fear of the unknown"?
FP: People are notoriously selfish. You have to convince them why something is good for them and give them incentives. For example, if you want to build an internal social media platform that will enable your employees to access day-to-day information, company news, peer reviews, etc., you have to give people an incentive to use it. For example, if the employees in your organisation rely on notice boards to find out company news, get rid of these boards. This will push people to use the platform if they want to know what is going on in the company.
ZC: How would you rate Pakistan's digital agility?
FP: Rating Pakistan's digital agility is a difficult call to make as I interact with a limited subset of individuals from Pakistan in my training sessions and they have a vested interest in digitisation. However, I recently found out via We Are Social [a global creative agency] that internet penetration is still very low in Pakistan and there is also a disparity between male and female users, which leads to many marketing challenges. There is no point pushing online marketing if your users don't exist online. However, there is a lot of room for growth.
ZC: What kind of businesses have you worked with to improve their day-to-day processes via digitisation?
FP: I previously worked with a hotel in Malaysia; it had a beautiful website but it didn't have a reservation button. You could check room availability but you had to email the hotel to make a booking. Many people would rather go to another hotel site or use a website like Expedia or Booking.com. So I helped make that one change (adding a button), and it had an immediate impact. I also worked with an airline to figure out why potential customers had stopped buying tickets on their website. After looking through the data, we found that the system timed out too quickly, so it wasn't a great customer experience. We simply increased the number of minutes prior to the timeout and this helped the airline capture sales. My role was to train the airline staff to search for data via Google Analytics (which has a built-in sales funnel) analyse it and take action.
ZC: What soft skills do people need to adapt to digital transformations?
FP: Interpersonal communication and critical thinking are at the top of my list; many universities in Malaysia now offer critical thinking skills as a core curriculum. Other skills that are important are high EQ, creativity, and analytical thinking.
ZC: How much investment is required to digitise SMEs in particular?
FP: You can digitise office systems with minimal investment. A good start are those ugly steel filing cabinets so often used in offices and which are a remnant of the past. One can save time and effort by creating and using soft copies of files via scanning and cloud computing (a small company can use Google Drive, which is free, as the amount of storage space offered is sufficient). It is not much of a financial outlay but it will get your foot through the door. Another way is creating a social media account on Facebook or LinkedIn, etc., which is free (unless you are paying for media), although this will take time and effort to get results.
ZC: How can companies best use social media platforms to cater to consumers?
FP: Digital is not just for getting likes on Facebook and Instagram, sending out promotional emails or having a website with shiny buttons. Firstly, you must have a goal. Whether it is direct sales, lead generation, customer retention or awareness building, different goals require different approaches. If your goal is customer awareness then direct marketing (putting up Facebook posts that scream 'buy now'! or 'sale'!) is not the way. Secondly, there is no point trying to reach everybody, it is a complete waste of time. You have to do a bit of data mining to figure out who your best potential customers are and then package the content in a way that they will want to consume it. For example, a 19-year-old would prefer a 10-second video, while a 32-year-old may prefer a bullet point list; you need to promote the same product using different packaging and ways of distribution.
ZC: How should brands communicate with consumers on these social media platforms?
FP: Consumers come across hundreds of ads in a day, most of which they will ignore or not believe. Instead of using celebrity endorsements, ask past customers to share their experiences about the service or use micro influencers, who may only have 3,000-5,000 followers (as opposed to a celebrity with millions of fans) but are considered authority figures among their followers. For example, if a new shoe store opens up you will be more inclined to shop there if a friend or blogger you follow recommends it, as opposed to seeing a random ad for it on Facebook.
ZC: What are the benefits of using social media in terms of ROI?
FP: For a company, social media should primarily be used to build a loyal customer base. So when CEOs ask me: "Do I get back more than I put in?" my answer is that the return is not always immediate because sometimes ROI is just a sentiment that you raise. For example, a bank should use social media to demonstrate that they are experts in handling money and investments by showcasing testimonials from happy customers, responding to online queries in a timely manner and showing they care about previous customers.