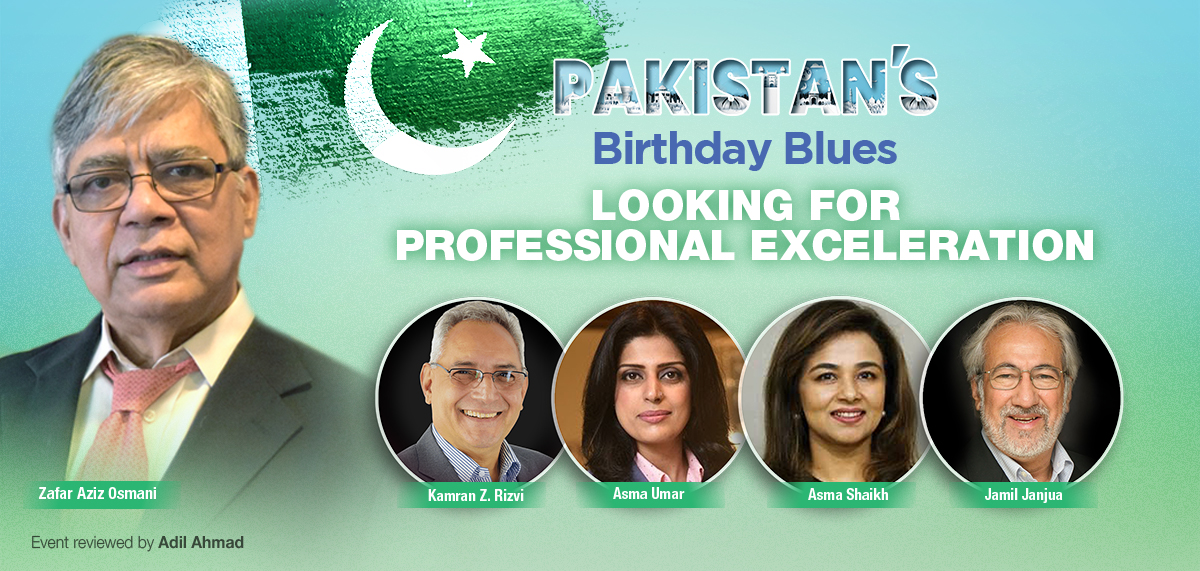 LOOKING FOR PROFESSIONAL EXCELERATION
The 14th of August just past heralded the 73rd birthday of Pakistan when a small group of human resource developers met in virtual space to celebrate the nation's birth with an honest appraisal of where we stood as a country and people, and zoomed in on the bitter truth with no sugar coating whatsoever.The Excelerate Learning Forum's CEO Zafar Aziz Osmani hasvery cleverly identified the overriding objective of his endeavor in the nomenclature of his enterprise, even if it meant adding a new word to the ever expanding English dictionary.
Emergent New Normal
To accelerate the act of excelling is, or should be, the order of the day across the board, and not just for Pakistan. Post COVID-19 the emergent New Normal will need to deal with the highly substantive universal issues of global warming and climate change, and to do this we will need to be at the very top of our game.
Premium on efficiency
The horrendous Monsoons' downpour that we have been subjected to in the week just past, and the deadly havoc that it has wreaked is testimony to what is being said here. The premium on efficiency borne of sincerity of purpose has never been higher, and it is expected that the deluge will sweep before it the remnants of the non-performing nepotistic and corrupt system that has plagued our lives and held us back over the past decades.
Heavy duty punch
The Excelerate Learning Forum held a live zoom session on the subject of "Pakistan – A Professional's Journey Since 1947" where the expert panelists included Asma Shaikh (CHRO National Bank ofPakistan), Asma Umar (CEO Accelion Consultancy), Jamil Janjua(CEO Octara) and Kamran Z. Rizvi (CEO Carnelian). Muhammad Azfar Ahsan (Founder Corporate Pakistan Group CPG & Chairman Nutshell Conferences) while not on the panel was invited to air his views and also chipped in with some very pertinent thoughts.
Looking back on the proceedings, it was surprising that one hour of deliberations could pack such a heavy duty punch, and indeed, as Zafar Osmani asserted at the end, this dialogue had to carry on, spreading outward and embracing in its folds as many right thinking folk as possible.
Asma Umar (CEO Accelion Consultancy) represented the new generation of Pakistan's upwardly mobile private sector self-employed leadership, while Asma Shaikh (CHRO National Bank of Pakistan) was a veteran of her field, her young years not with standing, and presently engaged with what is without doubt the most challenging assignment of her career. Jamil Janjua (CEOOctara) and Kamran Z. Rizvi (CEO Carnelian), founding fathers of the Trainers Resource Group (TRG) and established gurus with a great deal to their credit, no doubt had much to answer for given the length of time they had spent on the wicket.
Ritual minus the spirit
While there was much analysis of what ailed the people of Pakistan,the topic that was supposed to be under fire, "Pakistan – A Professional's Journey Since 1947", got lost somewhere in the crossfire which nevertheless threw up some potent food for thought,with Kamran Z. Rizvi (CEO Carnelian) hitting the nail firmly on the head with his dissection of the Pakistani mindset using the National Anthem as the yardstick.
"We have a national anthem for which we stand up. If we take out the spirit from the ritual then we have a problem, and that is what we have today and seen in the shape of economic mismanagement and corruption. It is tragic, and the product of our past whether it is the state of the economy, or education, or public services. It's an educated leadership that has led us to this pass," said Kamran Z.Rizvi who conducted a research over 5 years and found that 95% ofthe educated and managerial level people who rise for the national anthem in a cinema house fall silent when asked to explain its meaning.
"We need to know it, understand it, believe in it, and act upon it. Amal say zindagi bun ti hai, jahanum bhi, jannat bhi. In our society there's been a lot of discussion but very little action."
Asma Umar (CEO Accelion Consultancy) was of the view that the older, earlier generations were characterized by cultured upbringing,respect and a value system based upon honour.
"Now we find the new generations driven by money in a chaotic environment. There's a big difference between the education and grooming of the two eras. Nowadays we find very selfish leaders who do not allow the organizations to grow and engage in petty intrigues and conspiracies that drive away true talent, especially the expats who want to return home and serve the nation."
She feels that moving forward we need to focus on capacity building through mentor ship, and while virtual sessions are doing the job during the pandemic, there is no comparison to physical classroom sessions. "Our senior leadership needs to engage with fresh graduates and give them badly needed guidance."
Asma Shaikh (CHRO National Bank of Pakistan) said that the late Jamil Nishtar introduced many management training programs atNBP and hired and developed over 400 bankers. "Then came the politicization of institutions through the 1970s, 80s and 90s and we lost track of what we were doing. The infrastructure is still there. We have 5 staff colleges which were a first in the banking industry. Then the management trainee and development programs were stopped due to internal issues and we are still struggling to fix them with many court cases hindering the use of infrastructure. NBP can contribute alot to the entire banking industry."
Asma feels the way forward is technology. "Our people are very creative and hardworking and have achieved senior global positions despite the handicaps and lack of support systems. Overseas and even in Pakistani multinational organizations people get developed by the organization. Even without this enabling environment our people have done so well because of their natural talent. We haven't been able to embrace technology due to lack of resources and therefore cannot nurture this huge talent pool to the nation's advantage."
Jamil Janjua (CEO Octara), or JJ as he is known to friend and foe,said that his success factor was that he never looked at his role beyond the fact that he had to produce leaders. "All I did when I joined a position was to produce my substitute, my successor, and the moment that happened I was made to do some other job. As I produced successor after successor I was able to rise to the level of Group CEO."
JJ's message is don't ever feel insecure, and give your number two the opportunity so you can move on. The last few years have seen the corporate value system really go down, he feels, and that is where we need to focus. After 1980 there's been a downward spiral, and now MBAs and fancy jargon are the stocks in trade he says, emphasizing the need for life-long learning.At the age of 33 his career as an airline pilot with PIA was abruptly cut short as he was grounded on medical grounds, and with no higher education to his credit was required to reinvent himself for a managerial role manning a desk. JJ spent the next 3 to 4 years developing himself doing a lot of reading, and attended 150 one day and two days training programs.
"I learnt how to be a manager and took up a job offered to me by my friend and boss Khalid Awan. Behind every man is a superior woman!My wife Shahida was very supportive and I call her my Florence Nightingale because without her at my side I may not have been alive today. She is my boss. My second boss is of course Khalid A wan who is a very understanding person, and from him I learnt a lot of things about management gleaned from his contrarian views. I have learnt management on the go. All one needs to do is raise one's standard every day."
Muhammad Azfar Ahsan (Founder Corporate Pakistan Group CPG & Chairman Nutshell Conferences) said that what disturbed him was that Pakistanis had become used to below average performance as a society, country and nation. "It's okay to celebrate small successes, but if we have failed to grow then it's because of an acceptance of poor performance. Also, we are not collaborating because of our insecurities."
Summing up the proceedings the Excelerate Learning Forum's CEO Zafar Aziz Osmani said that because of the external environment and the politicization of professionalism we are confronted with institutional decay. There is no substitute to real life learning, and the more senior we become the more insecure we become.
"At the CEO level we consciously don't create a number 2 out of fear of redundancy. This has become part of our culture and a serious flaw and hurdle to our professional growth. Exxon and Amexco were the only two organizations where I saw proper succession planning done as a scientific exercise with a minimization of the human element. We must understand that if we prepare our number 2 there will be a bigger position waiting for us." In a departure from the norm he opined that the most relevant person for the CEO's slot is the head of HR.
Celebrating the frog
Clearly Pakistan is as yet on the early section of the Maturation Curve,and there are some stages of human evolution that just can't be leapfrogged. However, the move from linear to exponential development can certainly be initiated even if it calls for a donning ofG-Suits and the tightening of seat belts and shoulder harnesses. The act of leapfrogging our competition and getting ahead of the crowd will automatically follow.
To watch the recording of this event, click here