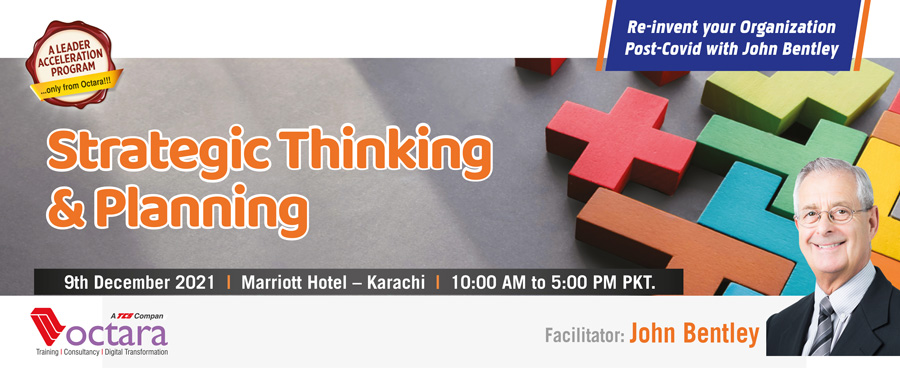 Workshop Overview:
To be strategic is to be well prepared ahead of time for different eventualities. A successful strategic process engages everyone in the ongoing strategy of an organization, rather than just leaving it to individuals. Therefore strategic planning requires a versatile and creative 'state of mind', that has space to: foresee the upcoming scenarios, perceive different scenarios and ­figure out new solutions for problems and issues that may arise.
This program covers the steps of the strategy management process, starting with the 'thinking' components of strategy, moving into the 'planning' components and ending with 'execution'. At the end of the workshop, participants will be able to implement or improve the strategic process at their organizations to reach their vision and achieve their mission.
Workshop Facilitator: John Bentley – Leadership Consultant Int'l Facilitator & Executive Coach; Certifi­ed EQ practitioner, EQ Assessor and Vital Signs Consultant from six seconds EQ Network
Key Benefits:
Through a blend of discussions, activities and case studies, participants will be able to:
Assess current strategies within own organization and select the best model

Learn creative thinking techniques that develop new ideas

Explore new strategies and provide different options Determine strategic objectives, Key Performance Indicators(KPIs) and 'SMART' targets for the organization

Convert strategic plans to operating plans through creating strategic initiatives and sequencing activities

Determine what causes the disconnection between strategy formulation and strategy implementation

Develop skills in setting strategic plans and how to convert them to action plans

Learn how to effectively establish and communicate strategy and directions; allocate resources; de­fine departmental, team and individual goals and directions

Participate in the performance management cycle to ensure proper execution of chosen strategies
Who Should Attend?
All senior professionals and manager who are involved in influencing, formulating or supporting the long term planning and strategy of their department or organization, as well as those who are responsible for linking, measuring and improving the performance of the organization, including strategy or performance management professionals, balanced scorecard managers, business unit and department managers and business analysts.
Avail Exclusive Offer for registering in 2 Leadership Acceleration Programs led by John Bentley in December 2021