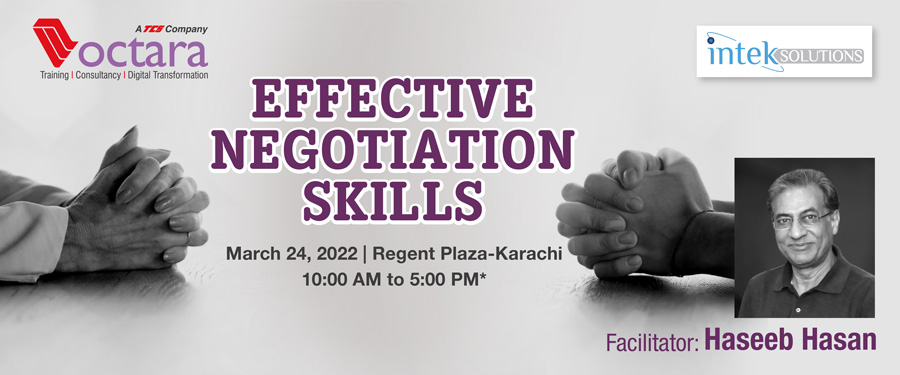 Program Benefits
By participating in this full-day workshop, you will be able to:
How quickly can you get down to business?

What are "their" priorities?

Are concessions viewed as weakness?

Should you use an aggressive approach?

Will certain tactics be viewed as deceptive?

How do "they" view the issues?

What strategies will most likely be compatible with "their" style of negotiating?

How can you "read" the other side's reactions?
WORKSHOP FACILITATOR: Haseeb Hasan,OD Maverick / Business Coach / International Keynote Speaker
Course Objective:
To equip participants with winning negotiating techniques with a focus on Communication, Closing
Techniques, Personal Growth Areas & Intuition, Imagination, Role plays, Win / Win and motivation through case studies, self-evaluation, group interaction and Emotional Intelligence.
Most of us are reluctant to negotiate. For many, it is a painful experience, which ends up in frustrations and stress. The negotiation learning cycle is indeed quite 'inherent' yet 'distant' to most of us.
Although real life situations and 'on the job' training is the best coach to become a "Skillful Negotiator", yet attending intense short duration workshops, sporadically, add value to perception and contribute in sharing one's own experiences with others.
WHO SHOULD ATTEND?
The program is designed For all those who those involved in business, managerial and other kinds of negotiations who wish to enhance their negotiation skills and make negotiations a more enjoyable, rewarding and effective part of their job.