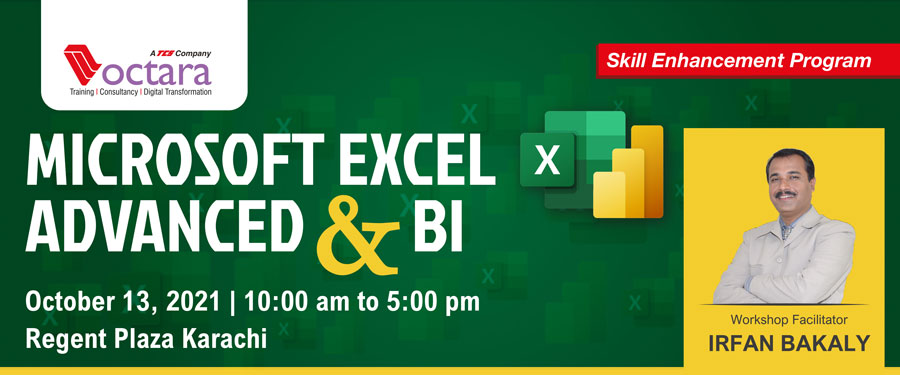 Why MS Excel is Important?
Microsoft Excel is a spreadsheet program included in the Microsoft Office suite of applications. Spreadsheets present tables of values arranged in rows and columns that can be manipulated mathematically using both basic and complex arithmetic operations and functions.
In addition to its standard spreadsheet features, Excel also offers programming support via Microsoft's Visual Basic for Applications (VBA), the ability to access data from external sources via Microsoft's Dynamic Data Exchange (DDE), and extensive graphing and charting capabilities.
Workshop Facilitator:  Irfan Bakaly–Received MVP Award 2017-2019in the Excel category
Benefits for using MS Excel:
Excel is typically used to organize data and perform financial analysis. It is used across all business functions and at companies from small to large.
The main uses of Excel include:
Data Entry

Data Management

Accounting

Financial Analysis

Charting and Graphing

Programming

Time Management

Task Management

Financial Modeling

Customer Relationship Management (CRM)
Almost anything, that needs to be organized!
Learning Outcomes:
Knowledge of functions and formulas to save time and reduce workload
How to use VLOOKUP to find values from 100s of 1000s of records
Identify the right type of Chart to use for available data & create the same
Creating Dashboard using Pivot Table, Pivot Chart & Slicers
Gather and transform data from multiple sources using Power Query
Understanding Data Modeling and DAX Function
Discover and combine data in mashups
Explore, analyse, and visualize data
Who Should Attend?
Business Intelligence Data Analyst Professionals – who want to keep the pace with marvelous development of Microsoft in Business Intelligence for modern corporate world.
Delegates will need to bring along a laptop for hands-on activity.