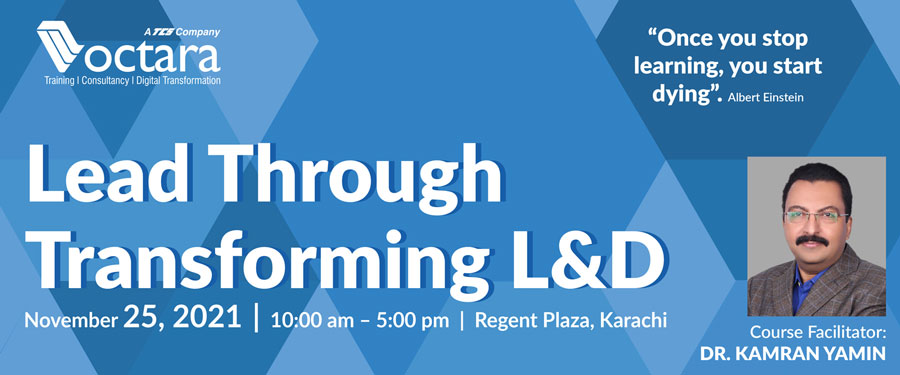 Program Overview:
In today's highly competitive era where challenges are increasing day by day, where time, resources and quality manpower is getting scarce, where dearth of talent is an issue. To overcome these obstacles, it's not sufficient to just hire good talent. Organizations need to retain, develop and groom their existing and new talent to make them productivity contributor for organizational success.
This full-day workshop "Lead through Transforming L&D" will facilitate you to tackle the problems related to Learning & Development processes and enhance your accuracy in designing different tools for different employees.
The course will help organizations to understand that L&D is now transforming from a support to critical function as business partner. This will also help participants in managing the L&D role with in organizations.
Key Takeaways:
Focus on learning and development partnering with business
Use of rifle & gunshot shooting, one fit for all is not applicable any more in L&D
Assess the training need analysis as per JD rather than fulfilling wish list of employees & bosses
Apply different strokes for different folks, addressing diverse professional needs
Build a competitive culture based on required competencies & skill sets
Change of mindsets in terms of "Investing on people development or expenses on training".
Workshop Facilitator:
KAMRAN YAMIN, European Certified Coach, French Certified Leadership Trainer and Turkish Certified HR Consultant
Who Should Attend?
The course has been specifically designed for HR professionals including:
Learning & Development Managers

Organizational Development Managers, Training Managers

Talent and Culture Manager

Talent Acquisition & Talent Development Managers

HR Business Partners & Analysts