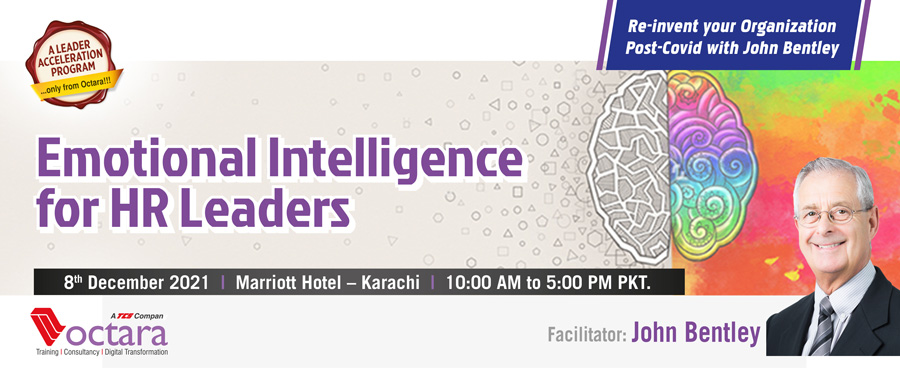 Workshop Overview:
EQ affects every aspect of an HR professional's job, as well as everything that an employee does at work.
According to a recent CareerBuilder survey, 34% of hiring managers said they are placing greater emphasis on Emotional Intelligence when hiring and promoting.
This becomes vital when we consider that 80 – 85% of decisions are based on emotions.
This stimulating 1-day workshop provides insights into the power of Emotional Intelligence and the competencies which are essential for HR Professionals to consider both in terms of their own development and in making critical decisions in recruitment, succession planning and talent management.
The major focus is on the vital drivers of performance, balancing the operational and the people side and the outcomes required to move themselves, teams and organizations forward.
The program is designed to provide participants with best-in-class professional education and knowledge with a solid foundation of Emotional Intelligence and the latest research in neuroscience.
Workshop Facilitator: John Bentley – Leadership Consultant Int'l Facilitator & Executive Coach; Certifi­ed EQ practitioner, EQ Assessor and Vital Signs Consultant from six seconds EQ Network
Key Benefits:
Through a blend of discussions, activities and case studies, participants will:
Understand the meaning of Emotional Intelligence and its importance for professional and personal success

Be able to apply the Six Seconds model for critical HR decisions

Increase awareness of the importance of emotions in the workplace

Be able to identify personal emotional drivers and barriers

Learn practical ways to improve the EQ competencies which underlie key leadership skills

Answer the questions:

What is emotionally intelligent leadership?

What are the emotional competencies critical to building relationships?

What are the emotional drivers of high performing leaders, teams and individuals?

How can the organization most effectively gain from these benefits?

Create a plan for the next steps in developing and applying EQ to improve own performance and to make the appropriate decisions
Who Should Attend?
HR Executives and Managers of all levels and experience

Anyone wishing to improve the professionalism and effectiveness of their Leadership and career progression
Avail Exclusive Offer for registering in 2 Leadership Acceleration Programs led by John Bentley in December 2021