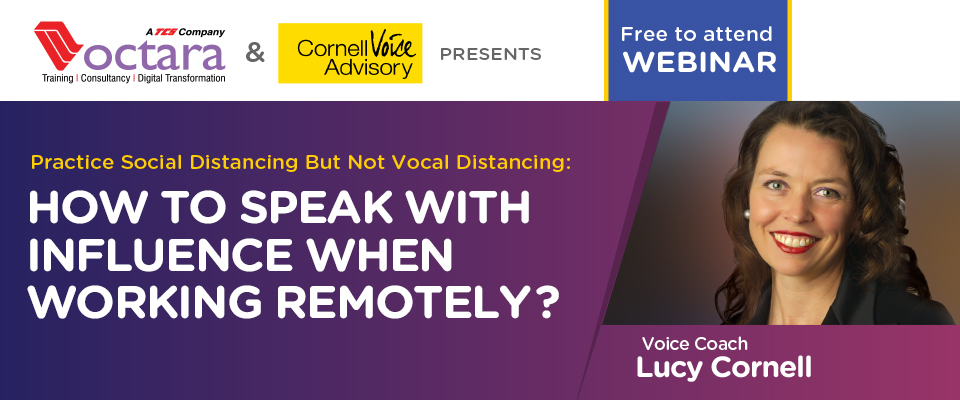 Practice Social Distancing But Not Vocal Distancing
How to speak with influence when working remotely?
Thursday 23 April,2020 | 11:00am-12:00pm(PKT)
Octara  is pleased to conduct 1 –hour complementary webinar in collaboration with 'The Cornell Voice Advisory, who are global specialists on the speaking voice for business professionals. Now it is critical for all employees to be able to speak with impact, influence and confidence.
Leaders now need to be heard through a general high level of anxiety or in fast paced and unpredictable scenarios.  The business that comes with face to face speaking will get lost in the pandemonium unless people have the skills to stay in control and cut through.
Learn Techniques:
to stay in voice while working remotely,

to speak boldly when it matters,

to be clear and direct,

to listen deeply so you can discern where agenda meets truth

to access the remote working super power: to hear what is in a voice – not just the words, but the intention in the voice.
About Voice Coach: Lucy Cornell
International keynote speaker on the innate persuasive power of the human voice

Lucy has spoken in 18 countries to 1000's of executives at over 300 events globally

Inspires leaders to speak meaningfully, ethically and responsibly to be voice of influence in their business
Click to view complete profile of Lucy: https://www.cornellvoice.com/lucycornell
Bonus Point: Book in a 20 minute chat with Lucy Cornell.