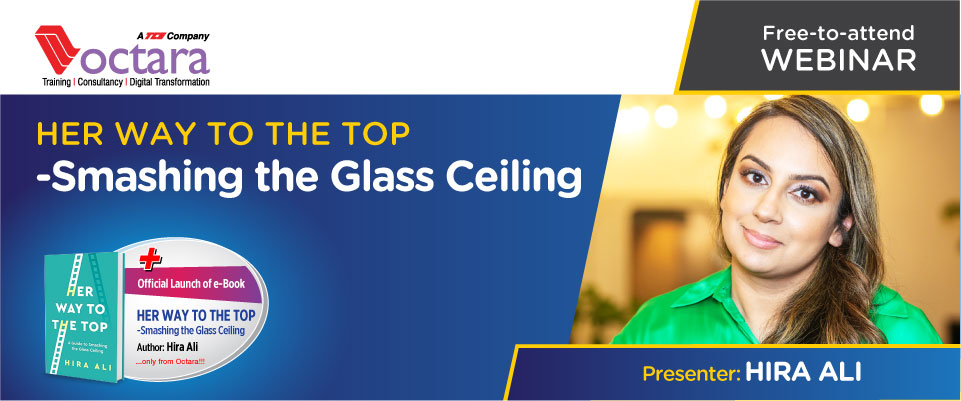 Free-to-Attend Webinar
HER WAY TO THE TOP
– Smashing the Glass Ceiling
Tuesday, May 19, 2020 | 2 – 3:30 PM (PST)
Octara is pleased to announce 90 minutes webinar with Hira Ali, who is a keynote speaker; author & executive coach on women & ethnic leadership development based in London, UK. She is very passionate about empowering women and is a strong advocate of diversity and inclusion at work place.
Some believe that your background and culture can have a huge impact on your behavioural patterns and that any challenges you face are distinct to your environment.
Highlights of the session:
Informed by 14 years of coaching experience and survey responses from 300 working women, Hira will reveal the universal internal and external roadblocks that can impede a woman's climb to the top, regardless of her culture or geography.

Hira will also explore the role of HR, senior leaders as well as that of male allies in supporting a woman's climb to the top.

Tactics will be shared that will highlight how men can support women at work and how organizations can deploy systems and policies to facilitate women in achieving unfettered career success

Participants will walk away with actionable strategies that they can implement right away to create a work environment that prioritizes protecting women from harassment, bullying, and sexism.
Presenter: HIRA ALI
CEO of Advancing Your Potential, UK

MD of International Women Empowerment Events

Associate Certified Coach accredited by International Coach Federation

Recently published a book HER WAY TO THE TOP

Professional member of the Association for Neuro Linguistic Programming

Published articles in The Huff Post, Thrive Global, Women@Forbes, Ellevate Network, Entrepreneur, Women Entrepreneur, Gulf News, The Female Lead and many more

Featured and interviewed in local and international magazines, newspapers and radio channels, one of the recent one being by former BBC journalist Dan Parry

Featured as a role model in New York best seller book "Girls Who Do You Want To Be" alongside global female influencers

Her famous podcast is 8 Minutes of Learning with Hira Ali on career development
To know more about Hira Ali, visit her official page
https://advancingyourpotential.com/about-me/
+ Official Launch of e-Book
HER WAY TO THE TOP -Smashing the Glass Ceiling
Author: Hira Ali
…only from Octara!!!