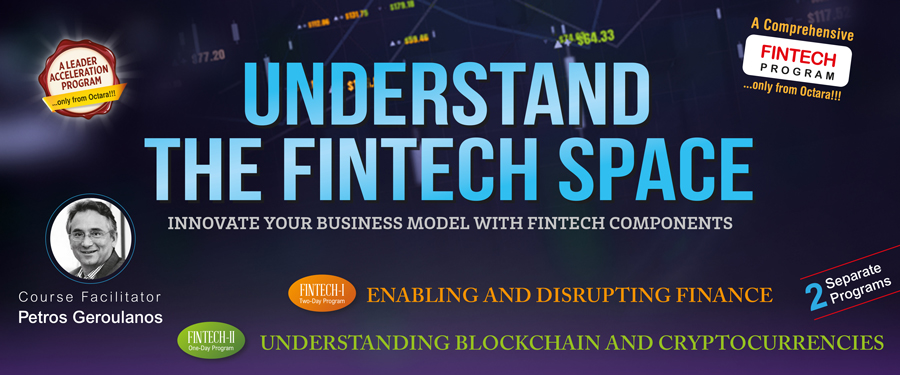 Introduction:
Today, we are experiencing a technological revolution,that is fundamentally altering the way we live, work and relate to one another. Its scale, scope and complexity will create a transformation humankind has not experienced before. We do not know how this will unfold (adapted from Klaus Schwab WEF).
The First Industrial Revolution used water and steam power to mechanize production. The Second used electric power to create mass production. The Third used electronics and information technology to automate production. Now a Fourth Industrial Revolution is characterized by a fusion of technologies that is blurring the lines between the physical, digital, and biological spheres. It is affecting the financial industry already.This course provides an overview of the current status quo.
FINTECH I – ENABLING AND DISRUPTING FINANCE | March 10-11, 2020
$4.7 trillion in revenue for traditional financial services is at risk of being displaced by new technology-enabled entrants. FinTech is changing rapidly with new sub-sectors emerging all the time, drawing in new names and organisations taking a customer centric view of financial services.
This course provides you with a comprehensive overview of the change in technology, the disruptors and challengers. In the exercises, you will focus on the risks and opportunities, but mostly, you will identify where the next gold mine of the future lies.
We encourage critical thinking in participants and present the latest thinking and knowledge in this area.
On this 2-day course, you will receive the thinking tools to succeed in the new world.
You can attend to follow-on course FinTech II onBlockchain and Crypto-currencies.
FINTECH II – UNDERSTANDING BLOCK CHAIN AND CRYPTOCURRENCIES| March 12, 2020
With Block chain and Crypto-currencies on the rise, this course explains the underlying mechanisms.
In order to understand the workings, we breakdown the digital ledger technology into its hashes and blocks before chaining them together. Then we compare Bitcoin to other Crypto-currencies. Finally, we actually setup a Crypto-currencies wallet on a mobile device and transfer funds from one party to another.On this course, participants begin to engage into the new world of Crypto-currencies.
Course Facilitator: Petros Geroulanos
Who Should Attend:
Senior Bankers and Managers
Decision makers in Financial Institutions
Mergers and Acquisitions
Corporate Financiers & Treasures
Asset and Fund Managers
Asset and Liability Managers
Members of ALCO
Regulators and Supervisors
Compliance Officers
Liquidity Managers
Central Bankers
Project Managers
IT Managers
Telco Managers