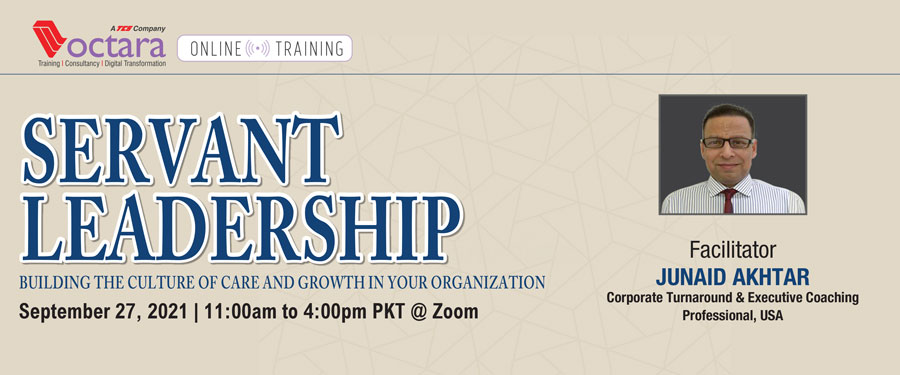 Workshop Overview:
With the modern-day workforce diversity and the need for a work-life balance, major corporations of today are faced with the challenge of sustaining talent, profi­tability, and success. Servant Leadership offers a proven way to overcome that roadblock when leaders and teams continue on the path of self-actualization. This course will address the subject in detail and provide insight based on experiential know-how acquired from a multitude of Fortune 500 ­firms.
When people feel valued, they strive to become their very best
Humility and care from leaders require efforts but foster long term success
Firms with servant leaders enjoy high talent retention and constantly outperform peers
Servant Leader builds higher levels of trust and employee engagement
Organizations exist to serve – leaders execute by serving teams and stakeholders
Workshop Facilitator:  Junaid Akhtar – Corporate Turnaround & Executive Coaching Professional, USA
For his linkedIn profile, click here: https://www.linkedin.com/in/japrofile/
Click Here to Register: https://bit.ly/3fJFrpl
Who Should Attend?
HR professional involved in cultural transformation and succession planning
Technical executives within Engineering, Operations, and Manufacturing
Anyone working in a matrix organizational structure