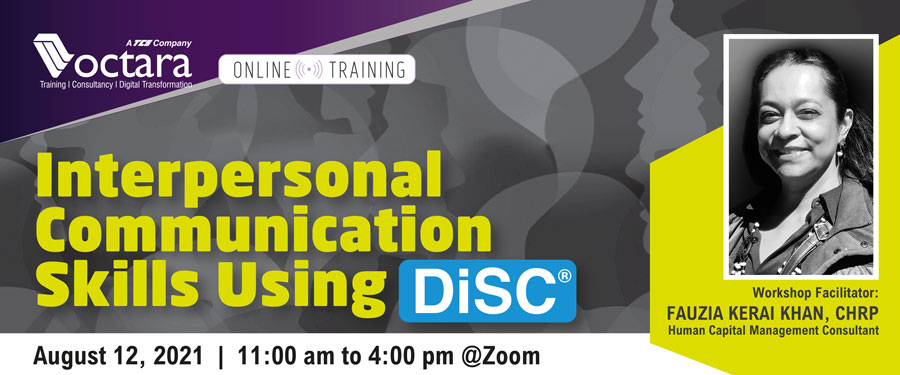 Workshop Overview:
Effective communication is a core competency for every part of every business. Success in sales and service depends upon it. Managers who are leaders should be competent in it. Teams, which are the basis of an organization, are formed through it. Effective communications is a 'life-skill' upon which sound relationships are established. Research shows that people screen out or misinterpret as much as 73% of the messages they receive, be it verbal, non-verbal or written.
This person workshop will help participants identify the various preferences individuals have for both communicating with others and interpreting the communications from others using
William Marston's DiSC® Methodology. It will help participants determine their own natural communication style, learn clues for reading other people's styles and apply methods for interacting more effectively with communication styles that aren't the same as theirs.
The program is designed to cover topics that are contemporary, and provides new insights on best practice in both interpersonal and group communication to make a tangible impact in real organizational settings.
Click Here to Register: https://bit.ly/3f7KWO6
Workshop Facilitator:  FauziaKerai Khan, CHRP – Human Capital Management Consultant
Learning Outcomes:
By the end of this workshop, participants will be able to:
Enhance 'People Skills' through the understanding of self and others' behaviorally.
Understand what generates obstacles to getting people to engage and cooperate
Learn how to focus on and understand the messages being transmitted consciously and subconsciously from others to produce a beneficial result.
Apply DiSC® methods to become flexible to instantly access an array of strategies to deal with whatever the situation demands.
Who Should Attend?
The DiSC® model provides a common language that people can use to better understand themselves and to adapt their behaviors with others. This can be within a work team, a sales relationship, a leadership position, or other relationships.