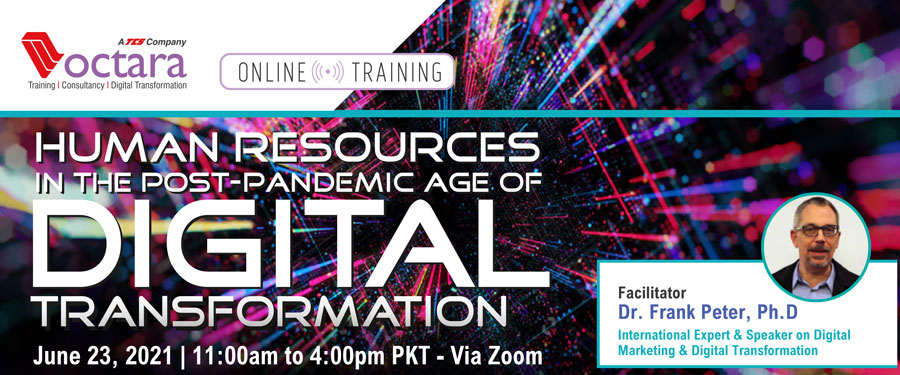 Overview
The current pandemic has forced companies to adapt to the 'new normal' at break-neck speed. Many HR departments feel ill-prepared and overwhelmed, but there is no way of going back to the old ways of doing business. Digital technology is the way forward as it has the potential to transform the role of HR as we know it. The path to success with HR digital transformation is complex and not straightforward, but that should not hold you back.
In this one-day class we dive into the principles and basics of HR digital transformation from an HR point-of-view: the 'what', the 'why' and the 'how'. Learn how you as an HR practitioner can play a more proactive role in the transformation of HR processes in order to create a stronger company.
Highlights of the Workshop:
Emphasizing HR Executives with firm grasp of their roles and functions in energizing the organizations' growth as a strategic and change agent
Re-inforcing the competencies of HR Executives and the comprehensions that are expected out of them
Aligning HR Executives with the contemporary landscape of Human Resource, its trends and challenges as well as the effective techniques in countering such impediments
Facilitator:
Dr. Frank Peter, PhD., Int'l Speaker & Corporate Trainer, Digital Transformation, Digital Marketing
Click here to view complete profile: https://www.linkedin.com/in/drfrankpeter/
Who Should Attend?
Executives, Senior Executives & Managers of:
Human Capital Development
Human Capital Management
Human Resources
Learning & Development
People Development
Talent Management
Training & Professional Development
From across various industries for instance:
Airline & Aviation
Banking, Finance & Insurance
Conglomerate
Energy & Utilities
Government Administration
Healthcare
Insurance &Investment
IT & Communications
Logistics & Transportation
Manufacturing
Oil & Gas
Retail
Telecommunication
Video Testimonials from Past Participants:
https://www.youtube.com/playlist?list=PLJErOBkW4CiyFcvDTBTSIoDf5nd0B3VDJ

To register, please click here: https://bit.ly/2RTldjP