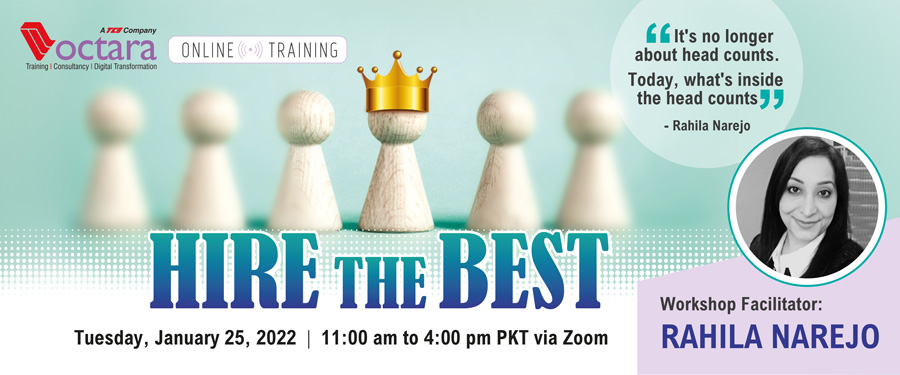 WORKSHOP HIGHLIGHTS:
By participating in this full-day online workshop, you will be able to:
Identify the impact of bad hiring decision

State the secret to good hiring

Differentiate between Traditional and Competency-Based Interviewing

List the SIX steps in CBI

Identify Competencies (KSAAEE) and COW's critical for success in a job

Write CBI questions

Conduct a structured interview

Identify strategies to minimize Bias
We will establish the critical need for hiring managers to learn the skill of Competency-Based Interviewing (CBI) by identifying the COST OF A BAD HIRING DECISION
WORKSHOP OVERVIEW:
Winning the War to ensure competent and committed talent hired throughout an organization.
Today, we find ourselves in a business environment characterized by chaos, intense competition, unrelenting organizational change, and a level of complexity that has dramatically raised the bar for success.
While the need for talent is growing, our workforce is constrained by serious talent shortages. Who we hire and promote is key to the success of our organization. Good selections save money and reduces employee turnover rate. Competency-Based Interviewing (CBI), is a method to increase the effectiveness of the interviewing process in selecting and promoting quality staff.
This full-day online workshop "Hire the Best" focus on how the interviewer with CBI method carefully defines the skills needed for the job and structures the interview process to elicit behavioral examples of past performance, best suited for your organization.
WORKSHOP FACILITATOR: Rahila Narejo, CEO at Narejo HR ; Author of 'Workplace Sanity'; Founder of The Humanplace™ &Mighty Consultants™ Accelerator Program
Click Here to Register: https://bit.ly/3DeKG9z
WHO SHOULD ATTEND?
The program is designed for everyone who participates in searching, selecting and hiring talent, at all levels, in all sectors and industries. It is ideally for:
Talent Acquisition / Head Hunters / HR Recruiters

Recruitment Specialist

HR Experts/ OD Consultants, Corporate professionals hiring people in the business

Line Leaders and Managers