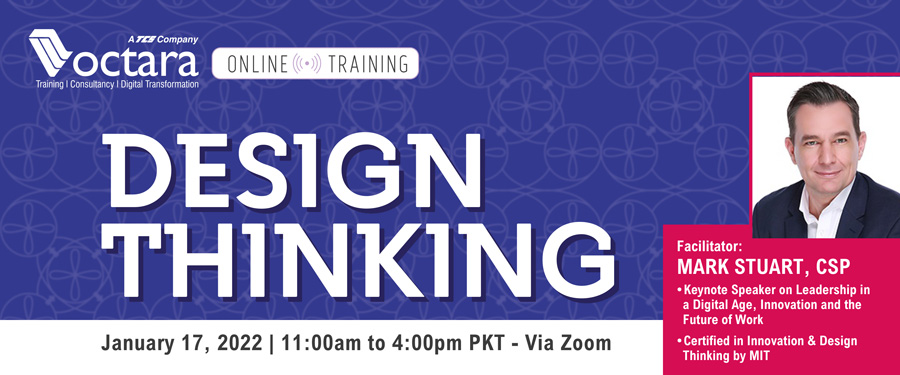 WORKSHOP OVERVIEW:
Design Thinking provides a solution-based approach to solving problems and has become extremely popular as an approach for innovation and work improvement.
In this interactive 1-day virtual workshop, learn how you can solve workplace challenges, generate creative ideas, and apply key tools and frameworks involved in Design Thinking. This is an interactive workshop with activities, breakout rooms and collaboration opportunities. Maximum benefit will be attained by participants discussing and working on practical examples that can be applied in their workplaces, through solving work-related challenges.
Taught by winner of The Future of Work award, Mark Stuart, CSP, will share his knowledge, based on his work accelerators, government agencies, and MNCs in Asia. Participants will learn how to solve problems and challenges through the application of the design thinking framework, and learn how to drive innovation and reactivity at work.
LEARNING OBJECTIVES:
Create awareness of the main features, principles and methodologies of Design Thinking as an approach for innovation and work improvement

Generate awareness of the benefits that Design Thinking will bring to your organisations
Understand the key procedures or tools involved in Design Thinking, with hands-on learning experience, for innovative application and for identifying new opportunities
Apply Design Thinking and its methodologies to your current challenges
WORKSHOP FACILITATOR: MARK STUART, CSP, • Keynote Speaker on Leadership in a Digital Age, Innovation and the Future of Work, Certified in Innovation & Design Thinking by MIT
WHO SHOULD ATTEND?
This workshop would benefit Corporates in, Innovation, Creativity, Customer Experience,or looking to implement improvements across their organisations. The workshop is designed for professionals across industries to join and benefit from the tools and techniques.