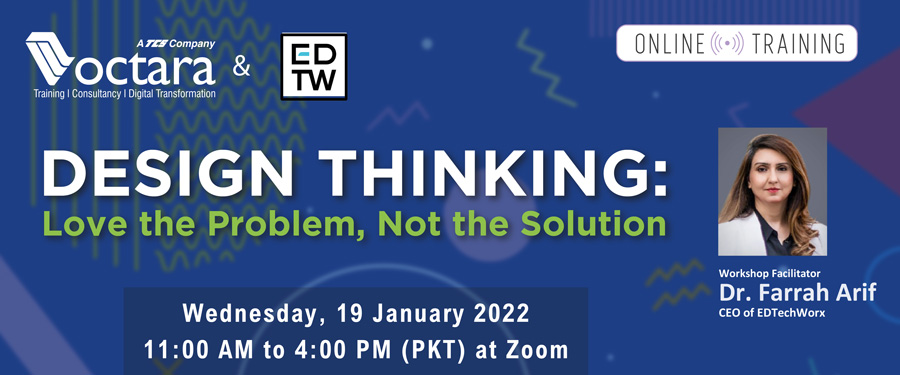 WORKSHOP OVERVIEW:
To many people, innovation is merely creating something new, either technologically or theoretically. But in reality, innovation is anything that changes the status quo. It is any small (or large) difference which transforms
the way individuals work, live, interact, and think. In the age of a completely new technological revolution, DESIGN THINKING is that Innovation that makes minor changes in how people conduct themselves but shows massive results. It doesn't involve fancy new gadgets or learning new softwares. It simply requires one to think differently, think outside the box.
In this online workshop, we focus on the tools for design thinking that participants practice through a design thinking case study. Through this exercise, they would be able to execute the design thinking philosophy and tools in their own organizations.
WORKSHOP FACILITATOR: Dr. Farrah Arif, CEO of EDTechWorx
KEY TAKEAWAYS:
Understand how design thinking can be applied to organizational cultures
Present practical examples of how design thinking is being used today
Develop the important steps needed to think 'in design'
Determine where to apply design thinking
Adjust your strategy based on design thinking insights
Execute the tools of design thinking
WHO SHOULD ATTEND?
Functional Area Managers

Strategy Managers

Innovation Managers/Visionaries

Anyone interested in learning new approach to Problem-solving, Creativity and how to make sure Innovationworks for their organization