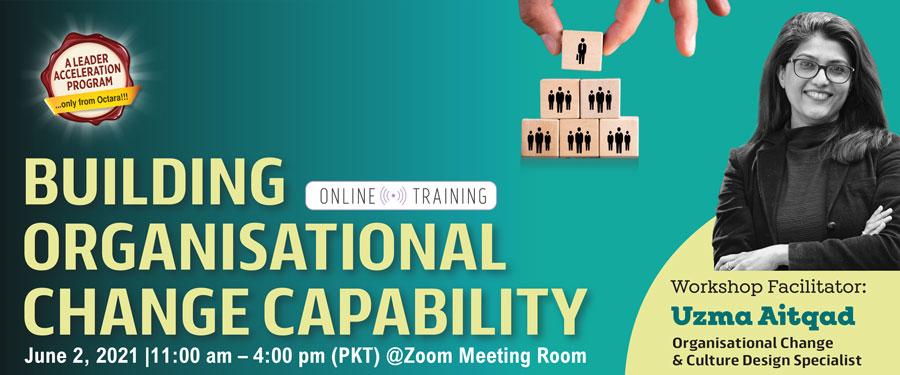 Workshop Overview:
Are you ready to develop organizational change capability to thrive in the world of change?
With the ever-increasing pressures of change, it has become pivotal for businesses to build the capability of leading and managing change to survive in today's competitive world.
Having in-house change management capability helps organizations become more agile in their response to adopting change and navigating through the challenges, which in turn helps them with realizing the benefits of change at a much faster pace.
The workshop "Building Organizational Change Capability" will empower you with the knowledge and practical examples to provide a roadmap to hit the ground running immediately.
Workshop Facilitator: Uzma Aitqad
Click Here to Register: https://bit.ly/3u0Hbzy
Organizational Impact:
In sending delegates to this workshop, the organization will gain the following benefits:
Execute change to deliver sustainable results
Assess the impacts and measure the change to convert into an actionable plan
Get people's buy-in to deal with resistance to change
Communicate the change objectives across people for awareness
Enable people to adopt change with confidence and ability
Align culture with change objectives and the aspirations for increased adoption of change
Who is the course for?
Senior and middle managers who want to drive strategic changes for sustainable results at organization and team levels
Decision makers who need to provide change leadership to effectively manage the disruption in their industry(such as financial institutions, oil & gas, manufacturing and pharmaceuticals)with a change management strategy
Professionals in change management and HR who need to analyze and implement large-scale change in an organization
Leaders of small businesses looking to manage growth and scaling effectively