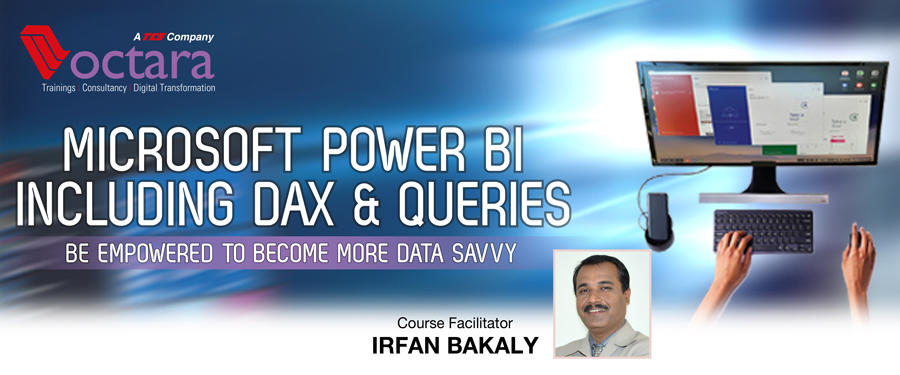 Course Overview:
Power BI is a cloud-based business analytics service by Microsoft enabling anyone to visualize and analyze data with greater speed, efficiency, and high understanding.
Moreover, Power BI
Is an interactive data visualization tool which makes it easy to share data across the organization?

Delivers valuable insights to make quick and informed decisions

Transforms raw and unprocessed data into insightful and stunning visuals for officials to communicate and understand the business better

Provides access to the customized reports and interactive dashboards which help to have a complete 360-degree view of the business
Who can use Power BI?
It can be used by Business Analysts and IT Personnel to
CREATE interactive data visualization from multiple data sources

DELIVER real-time insights across the organization
Course Facilitator: IRFAN BAKAL
Learning Objectives:
On completion of this course, participants will be able to:
PERFORM Power BI desktop data transformation

DESCRIBE Power BI desktop modelling

CREATE a Power BI desktop visualization

IMPLEMENT the Power BI service

DESCRIBE how to connect to Excel data

DESCRIBE how to collaborate with Power BI data
Intended Audience
Data Analysts, Business Analysts, Information Analysts, Financial analysts

DB Administrators, Project Managers, Marketers
Other excel users wishing to upgrade their reporting capabilities