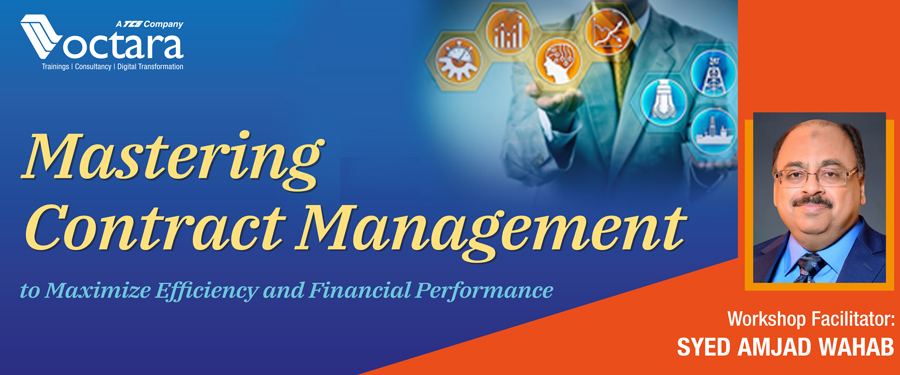 Course Overview:
Contract management is the process of managing contract creation, execution, and analysis to maximize organization's operational and financial performance. It is pivotal for an organization's competitive advantage. Organizations with effective contract life cycle management are able to generate millions of dollars in additional savings while eliminating financial and operational risks. Poor contract management can hurt the organizations' bottom line.
This Workshop will assist the participants in having a better understanding of the core concepts and best practices leading to successful contract management, which can boost the overall efficiency and profitability of the organization. The discussion will help enhance the ability of the participants to select the most appropriate type of contracts for specific needs besides covering all phases of the contract management process.
Ethics also plays a vital role during the contract management process. This Workshop will help you better understand the exposures due to unethical behaviors during the contract management process in order to design and put in place adequate safeguards.
Course Facilitator: SYED AMJAD WAHAB
Key Benefits:
At the end of the Workshop, the participants should be able to:
Understand how contracts are formed
Differentiate between various types of contracts
Learn the risks and benefits associated with each type of contract
Select the most appropriate contract for specific needs
Comprehend what Contract Management is
Gain command on the six phases of Contract Management
Enhance knowledge about ethical issues in contracting
Who Should Attend:
Purchasing, Contracts and Supply Chain professionals including Purchasing Managers, Contracts Managers,Contracts & Procurement Team Leaders and Specialists,Procurement/Purchasing Coordinators, Buyers

Project professionals including Contract Administrators,Project Managers

End Users in technical functions/departments