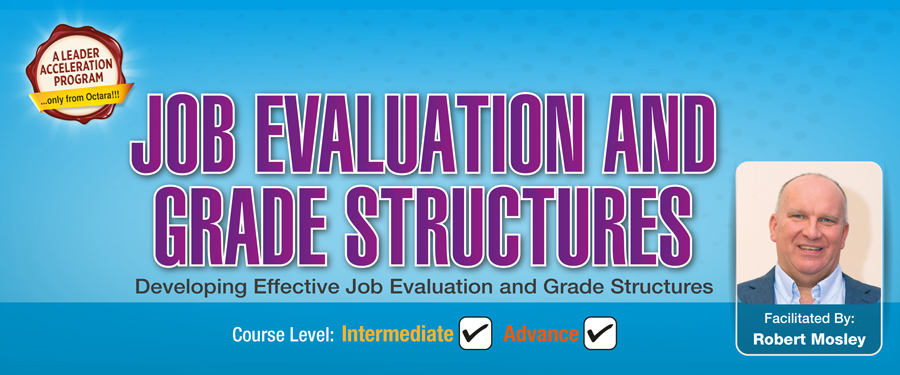 Course Overview:
The aim of this 2-day course is to provide a sound knowledge of job evaluation approaches and provide anunderstanding of how job evaluation fits into the broader context of human resources management, and toprovide practical skills in the application of job evaluation systems. This 2-day course will cover the key areas in job evaluation tools and techniques and best-practice processes for evaluating jobs and placing themaccurately into your overall grade structure.
Key Benefits:
Develop clear job profiles, job descriptions and key accountability statements that communicate what is expected from a employee and underpins your performance management process
Understand the different approaches and tools for job evaluation in order to determine how to place a job into the correct grade within existing grading & pay structure
Align your grade structures with your organizational objectives and human resources strategy and discover practical steps for implementing a job evaluation system, and developing a grading system to underpin your salary structures and remuneration policies
Identify and discuss practical issues related to job descriptions and job evaluation and grades that will help you in the workplace
Course Facilitators:Robert Mosley
Who Should Attend:
This course is designed for everyone who requires an appreciation or an in-depth knowledge of writing job profiles and job descriptions, and/or an understanding of how to implement a job evaluation scheme and develop grade structures underpinned by professional job analysis and job evaluation techniques, including Directors/Managers/Analysts/Generalists in all areas of Human Resources, as well as Specialists who focus on Compensation and Benefits and Reward.