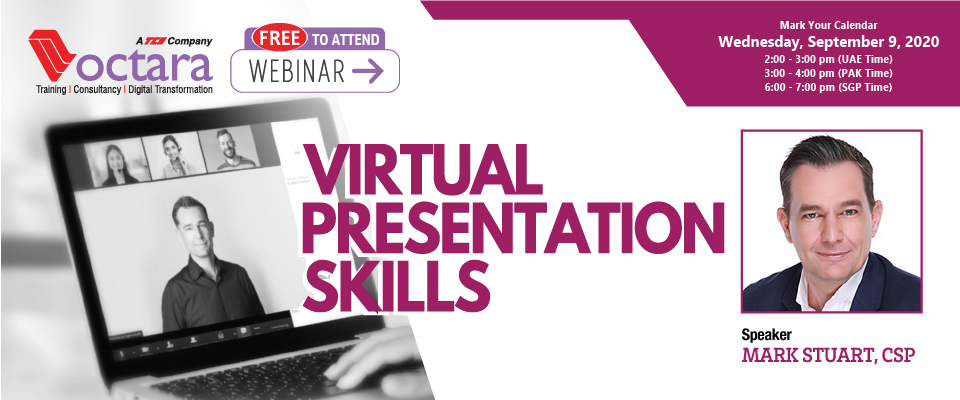 Want To Learn How To Present On-Line Like A Pro?
With MOST meetings transitioning to online, there has never been a more important time to learn how to present using online tools. How do you give Project Updates,Present to Clients or close the deal ONLINE using meeting platforms such as Zoom,Microsoft Teams, and more? Want to learn how to present online like a PRO?
Learn from one of Asia's most sought-after virtual speakers, Mark Stuart, CSP. Mark has delivered over dozens of virtual events using Zoom, Webex, Microsoft Teams,helping to up skill corporate and government clients in 19 countries.
Speaker: MARK STUART, CSP
Keynote Speaker on Leadership in a Digital Age, Innovation and the future of work
In This Webinar, You Will Learn To:
Excel in delivering confident and convincing presentations virtually
Connect with the audience and get them to take ACTION after your virtual presentation
Discover the tools and techniques of using Zoom, Microsoft Teams and other meeting platforms, polls, quizzes, breakout session and group activities for more interactive and effective meetings
Who Should Attend?
Learning & Development / HR Leaders
Project Managers, Project Leaders
Executives, Managers, Directors who want to learn how to present better virtually
Sales professionals, Entrepreneurs who now use Zoom, Microsoft Teams and other meeting platforms
Educators (trainers, teachers, consultants, facilitators), who want to learn how to use online tools
Zoom Registration Link:https://bit.ly/2Q9KGBx