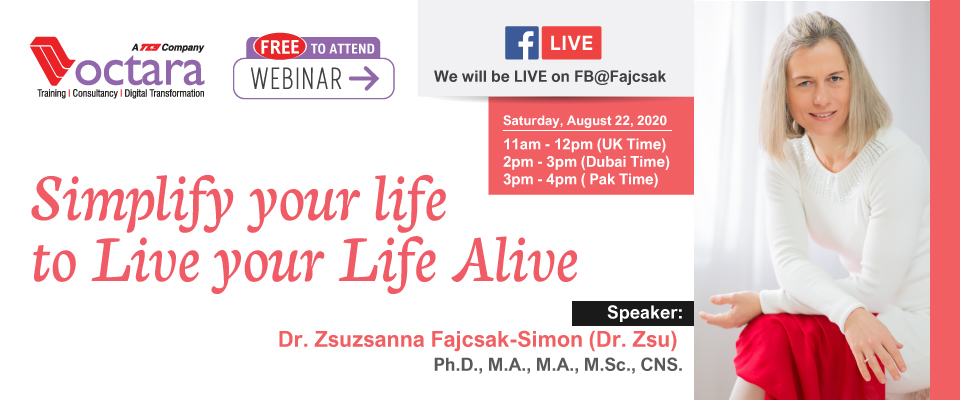 Program Overview:
Did you know that by simplifying your…
Environment you will simplify your life and feel better?

Life you work on your health and you step on the road to happiness?
The Question is:
How to simplify your life when you don't have time, your life is so complicated and you are so afraid of change?
Key Highlights:
How to simplify your environment and life in such small bite sized steps that all difficulty becomes an easy to do task?
Key Takeaways:
Experience inner calm and start seeing life with more clarity

Start prioritizing among your needs, your life and seeing the real value

Getting rid of the clutter and feeling much better

A healthier diet and more active life

Less fatigue, more concentrated work, conserving energy

Able to express genuine acceptance and gratitude for self and others

Live with genuine loving-kindness and compassion

Be a better human being and add to social change
Speaker: Dr. ZsuzsannaFajcsak-Simon (Dr. Zsu) Ph.D., M.A., M.A., M.Sc., CNS.
Who Should NOT Attend:
Who are waiting for a miracle to happen for their life to change

Who are expecting others to fix their lives

Who expect their happiness from others

Who depend on others to fulfill their emotional needs and use them as a compensation for their lack of self-love
This Free-to-Attend 60min. webinar will be LIVE on https://www.facebook.com/Fajcsak