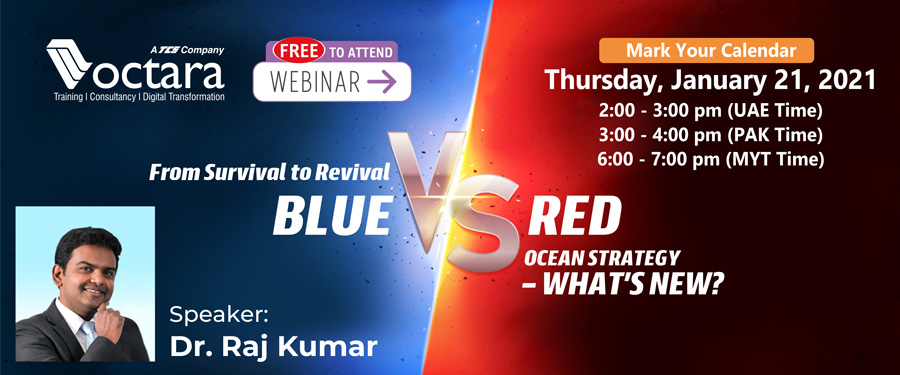 Overview
Post-Pandemic, it is imperative that companies and organizations make a mindset shift, and this webinar is the perfect channel to develop the right perspective, gain strategic ideas and build a clear roadmap with market creating tools and systematic process through Blue Ocean thinking.
Participants will be enlightened with insights to seize new growth through market creation. It will be a great opportunity for any organization to shift away from cut throat markets of red oceans to the wide-open blue oceans of new and uncontested market space.
A value add would be the walk through of a case example of a Blue Ocean Revivalist.
Key Takeaways 
Blue Ocean challenges companies to push the boundaries of their industries and offer consumers something unique of immense value. Through an interactive session, webinar participants will understand that:
Organizations can create new demand in an uncontested market space, or a" Blue Ocean", rather than compete head-to-head with other players in an existing industry.
Value Innovation is the cornerstone of BOS and entails driving costs down while simultaneously driving value up for buyers and the company.
Organizations should re-orientate their strategic focus from competitors to alternatives and from customers to non-customers of the industry.
Blue Ocean Strategy provides a robust mechanism to mitigate risks and increase the odds of success.
Speaker: Dr. Raj Kumar is the CEO of UCSI Consulting Group
 Zoom Registration Link: http://bit.ly/388uHNU
 Who Should Attend
C-level Executives, Business Owners, Entrepreneurs, Executives, Heads of Departments, Marketing Professionals, Sales Professionals, Emerging Business Leaders, HR Directors & Managers, and Business school faculty will find the Blue Ocean Strategy introductory webinar highly relevant and easy to understand.