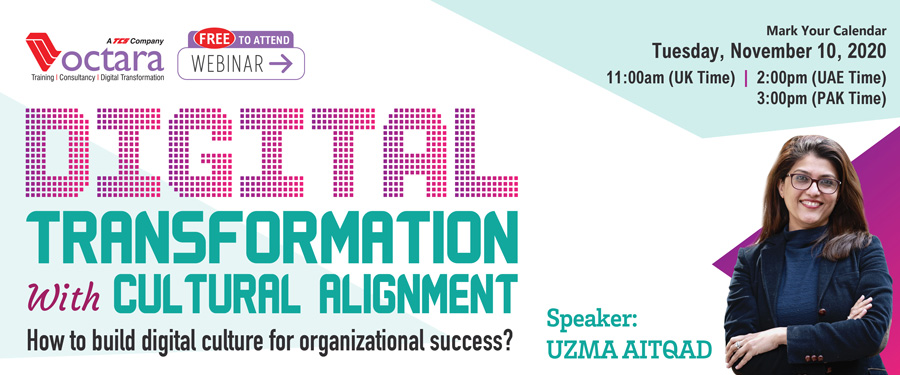 About the Webinar:
Digital transformation is about creating exciting new possibilities in everything we do in our lives and businesses, the impact is staggering. Statistics suggest about 70% of such initiatives fail due to lack of cultural piece. Achieving cultural alignment is not impossible; however it requires some level of change leadership capability for turning technology into business excellence.
This webinar provides business leaders and executives with insights into leading digital transformation with maximum benefits to their business. You'll learn what digital mastery really is, how cultural alignment contributes to digital mastery?, and how we can achieve it.
Speaker: UZMA AITQAD
Organizational Change and Culture Design Specialist
Founder /Director of Magna People Change Consulting, UK
Uzma is an Organizational Change and Culture Design specialist specializing in leading digital transformations with cultural alignment to deliver a true value of digitization
Over 22 years of experience of designing and driving transformational changes with culturally diverse teams across MENA, Asia Pacific Countries, Azerbaijan, Africa and the UK, in the public and private sectors, including over a decade in international roles at BP
Alongside her consulting activities, she also lectures as a Visiting Faculty in the Brighton University, Business School, UK
To know more about Uzma, browse her company's website https://www.magnapeoplechange.com/
Zoom Registration Link: https://bit.ly/3jA15we
Key Takeaways:
By the end of the webinar you'll have a sound understanding of:
Who wins in a digital world? why digital transformation is actuallya business transformation?
How business leaders outperform their peers – understand 9elements of digital transformation with culture being at the core of it driving technology.
How digital success with cultural alignment can be achieved using Magna Methodology ADMERE© based on industry led research
What are the challenges associated with cultural alignment and techniques to deal with.
Who Should Attend?
Chief Information Officers (CIOs)
Business Leaders
Decision Makers who desire to or tasked to bring digitization for customer experience improvement, operational processes enhancement, or business model effectiveness