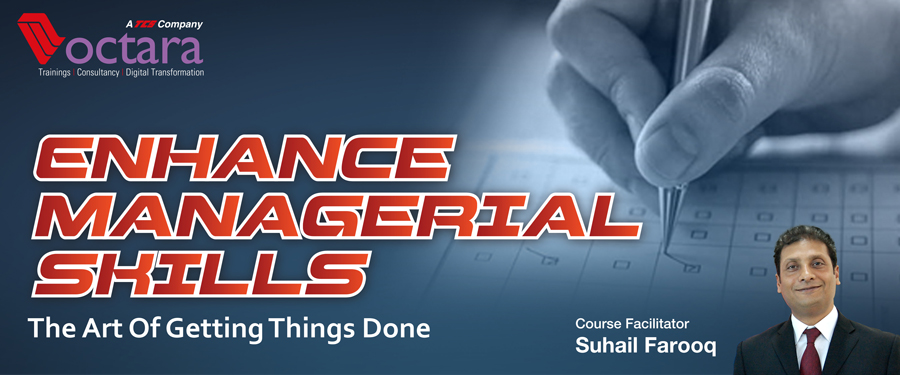 Deliverable of the Workshop:
To understand & implement culture of execution for achieving results

Discover blind spots in subordinates' competence & commitment levels and offer effective coaching to execute efficiently.

To prepare action and implementation plan with effective feedback
Course Overview:
The workshop on "The Art of Getting things Done" aims to develop an appreciation of the responsibilities of managers and build capability to get things executed through effective and efficient managerial skills. The program explores the orthodox & latest in management practices, subordinate development, team performance analysis &competition handling that will help implement strategies and tactics in more sustainable manners with best ethical practices.
Course Facilitator: Suhail Farooq
Learning Outcomes:
1-day modular, intensive program will expose participants to day to day of management & execution challenges faced by tactical & operational managers. Enriched with local anecdotes of fi­eld, sales, marketing, man & business management practices and pitfalls, the program will help:
ENHANCE the understanding of the managers' responsibility to identify main reasons companies fall short of their promises.
GAIN contemporary perspective on pinpointing gaps between what a company's leader wants to achieve and ability of the organization to deliver it.
LEARN a discipline for meshing strategy with reality…aligning people with goals and achieving the results promised.
COMPREHEND the link to core processes of any business come together to get things on time.
INTRODUCE a method for success: The Discipline of Getting Things Done.
Who Should Attend:
Strategic & Operational Managers handling performance teams and responsible for generating results through execution of strategies/tactics, are encouraged to attend this course.