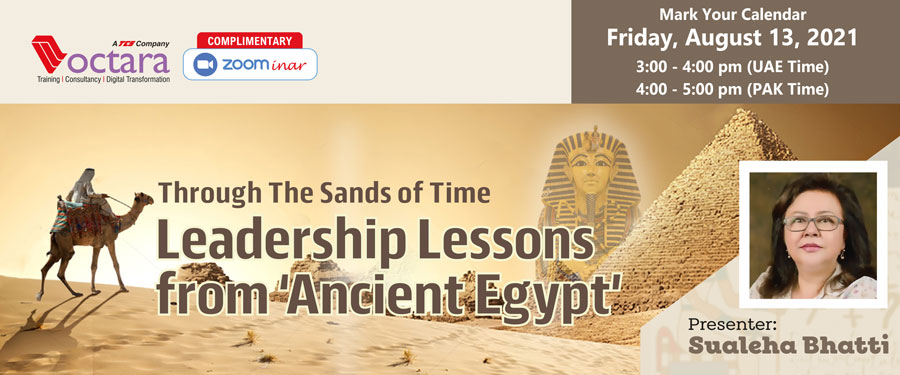 Webinar Premise:
Egyptian Pharaohs ruled one of the first and perhaps the greatest civilization for over 3000 years. It takes great leadership to not only bind a nation for such a long time but also to take it to heights which we still look at with awe.
This 1-hour webinar is a combination of history and leadership, where participants will be introduced to the various mythologies, customs and accomplishments of some of the most important and well known Pharaohs so that participants can draw conclusions pertinent to our times.
Presenter:
Sualeha Bhatti – Chief Consultant and CEO of Winning Edge and
Author of 'My Life, My Dots, My Connections', available on Amazon.
To register, please click here: https://bit.ly/3BUfAEs
Talking Points:
Leadership is Divine
How it all started
The origins of the Pharaoh as a living god. The story of Osiris, Isis, Seth and Horus
Mummification and Resurrection, and its significance
What Divine Leadership means to the modern corporate leader
Leaders are Immortal
The significance of a person's name in ancient Egypt
The destruction of cartouches
The architectural legacy of Egypt
What Immortality means in today's leadership
Leaders Tell Great Stories
The importance of hieroglyphs and carvings
What story telling means for today's leaders
Who Should Attend?
The webinar is best suited for middle to senior management. People who are managing other people's performance i.e. Team Leaders, Department Heads etc, as well as people in charge of Organizational Development and Change Management in organizations.