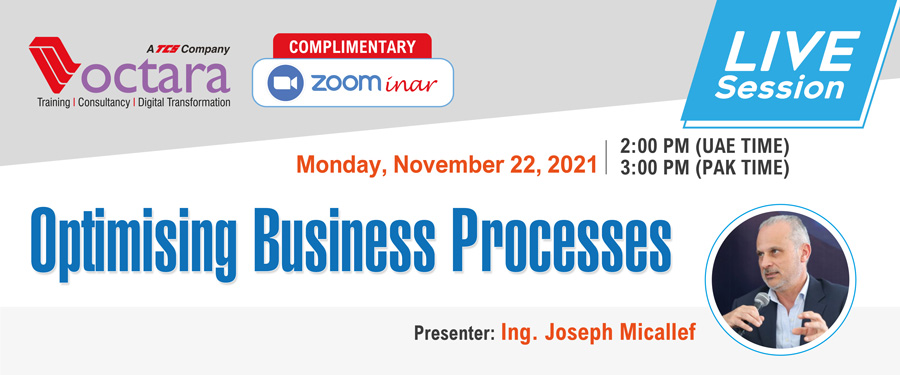 About the Webinar:
This webinar intends to discuss what it takes to reconsider the future route to managing our business, especially after COVID-19. The operating environment is constantly changing! Sometimes as a result of some unexpected circumstances, our business is made up of a myriad of processes; all intertwined in some complex way … to ultimately deliver value. Unless we fully understand our business processes, provide a means to analyze them, and optimize the way they are designed, how can we assure the sustainability of our business?
Speaker: Ing. JOSEPH MICALLEF – B.Elec.Eng.(Hons.), Eur. Ing., C.Eng., MIET Managing Consultant – Strategic and Operational Excellence
For Zoom Registration, please click the link: https://bit.ly/3wL7bBh
Key Benefits:
The interactive webinar, facilitated in an open style, is expected to enable participating delegates to walk away with some insights in regards their business sustainability.
Appreciate the importance to set a plan of action for making timely and necessary changes to the business, in line with upcoming demands
Understand the first steps involved when developing their strategic plan
Learn about the best practice frameworks to support their operational business model
Opportunity to share their thoughts, inspire others, and learn from the interactive discussion 
Talking Points:
The current situation, where are we now?
Our business model and its context in its own survival
Thriving into the future, post pandemic
Key principles for the evolution of your business
Introduction to optimizing the management of your business processes
Open debate and discussion time.
Who Should Attend?
Business owners/Decision makers
Executives (Operations, Finances, Transformation, HR, etc.)
Top Level Management (GM, MD, etc.)
Influencers within organizations (board level members)
C-level Suite