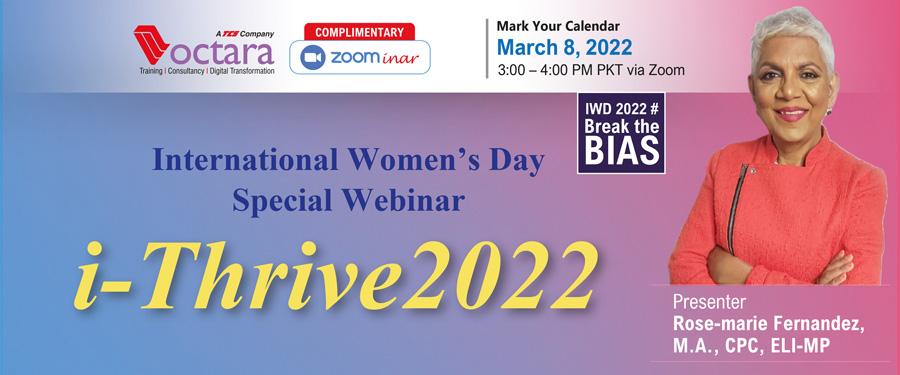 i-Thrive 2022 is a winner delivered by Rose-Marie Fernandez. In this motivating webinar she will share with us some key tools learned from sage Gurus who are on the international arena recognized for self-development and acclaimed for their thought leadership.
This toolkit is designed from the works of several renowned authors such as Stephen Covey, Peter Bregman, Dr.JohnDemartini and several others will provide you with enough power to thrive this year.
Learn how to take your life to the next level and show up as the best version of yourself !
This one-hour webinar will be life changing where participants will learn to:
Take greater ownership over your life

Build unshakeable confidence

Stare down huge tasks with fierce determination

Create accountability to self & others

Create breakthroughs

Approach your days deliberately

Take care of yourself and experience higher levels of well-being
Presenter: Rose-marie Fernandez
Rose-marie Fernandez is a Human Resources expert, worked with several fortune 500 companies in the South Asian sub-continent, USA and Canada. She has been recognized Professional Certified Coach (PCC) and credentialed by the International Coaching Federation (ICF). Rose is also Founder & Transformational Coach at Coaching Worx, Canada. She is exclusively working with Octara for her online trainings.