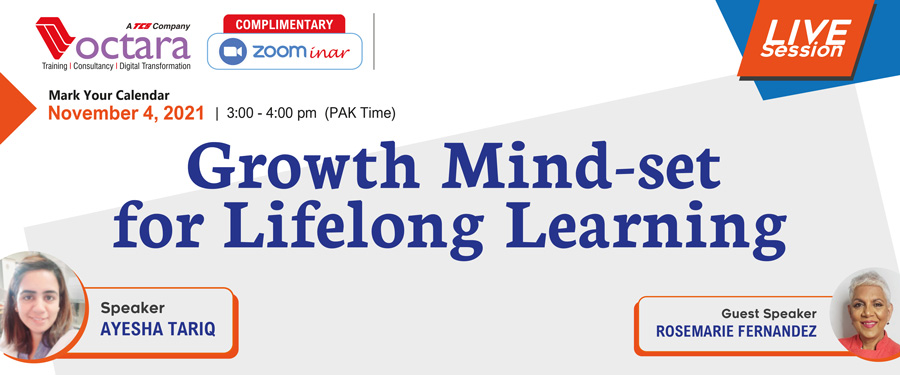 Overview:
The session is about developing Growth Mindset and how it is essential to Lifelong Learning process. It talks about few fundamental beliefs that differentiate Growth Mindset vs Fixed Mindset, including some takeaways for Leaders to develop Growth Mindset embracing Lifelong Learning.
Speaker: Ayesha Tariq
Product Specialist Training & Moderator of Octara's Webinars & trainings

Content Creator for Marketing Collateral

Introduced International & National trainers on Digital Transformation, Branding, Leadership, Data Analytics, HR, Marketing, Sales Finance and other subjects

Provide Post-Workshop advisory services to clients

Member of CA Toastmaster Club, & Winner of Best Speaker 2021

Diploma on Creative Advertising from Indus Valley School of Arts

MBA Marketing, Bahria University

Love to read books, watching movies, walk and meditation
Guest Speaker: Rosemarie Fernandez
Founder, Transformational Coach and Change Management Expert at Coaching Worx, Canada

Professional Certified Coach International Coach Federation (ICF)

Abundance Coach, signature program on mindset 'From Overwhelm to Abundance'

LinkedIn Profile: https://www.linkedin.com/in/rosemariefernandez/
Zoom Registration, click here: https://bit.ly/3EdK3xL
Talking points:
Carol Dweck's Definition of "Mindset"

Growth Mindset: Embrace learning new things

Beliefs that shape mindset: Curiosity OR Desire to Learn

Process of adopting Lifelong Learning

Why Unlearning is Important?

Growth Mindset for Leaders
Who should attend?
Anyone who wants to understand Growth Mindset and its importance for Continuous Learning.