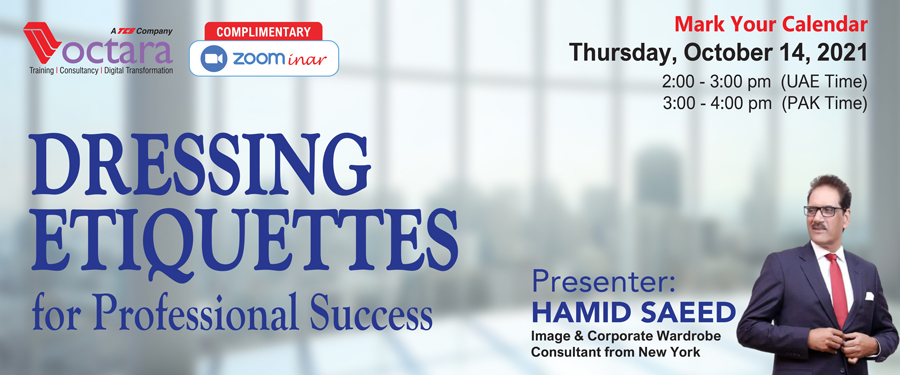 About the Webinar:
Hamid Saeed helps you to enhance your 'personal brand' by creating a signature look' which will resonate with all your stakeholders; clients, peers, subordinates and superiors.
In this 1-hour webinar you will also learn what subliminal messages your attire must convey to exude power, authority and approachability in order to achieve your career goals and implement your vision & agenda. This is the most comprehensive session on 'Dressing Etiquettes' to learn how to avoid embarrassing dressing mistakes which may affect your career.
Presenter: Hamid Saeed – Image & Corporate Wardrobe Consultant from New York
For zoom registration, click here: https://bit.ly/3CAGoJF
Talking Points:
How to dress for success

Convey the right messages with your attire to create an impact on your target audience

What are 5 P's of Dressing – a revolutionary scientific dressing formula

How to build a wardrobe on a budget

Do's & Don't of Dressing

Appropriate colors and styles for corporate dressing

Dressing etiquettes for working from home
Who Should Not Attend?
Anyone who is not interested in grooming and 'personal branding'.