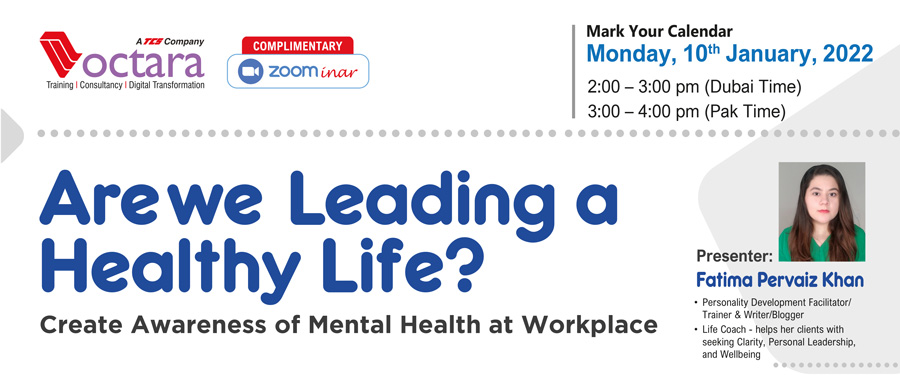 About the Webinar:
Awareness is a key to combatting any disease. We may be leading physically healthy lives, but are we leading a mentally healthy life? Let's face it; mentally healthy people do leave a positive influence just by being themselves. What is it that is different about them? They are a source of warmth and joy. Experiencing them is a pleasure itself.
Nobody likes that person who is always complaining and is dull to be around. Even in our corporate world, they can be the demotivating agents in our work force. Beneath the surface is a human being living with pain. What can be an anecdote to this pain? What is the prerequisite of understanding the source of the pain? And how can learning this benefit us in our professional and personal lives?
This one-hour webinar will shed light on the two factors that influence our capacity to either be LOVE or PAIN and how we  contribute to our environment by either being a source of peace or suffering.
Speaker: Fatima Pervaiz Khan- Personality Development Facilitator/ Trainer & Writer/Blogger, Life Coach – helps her clients with seeking Clarity, Personal Leadership, and Wellbeing
For Zoom Registration, please click the link: https://bit.ly/3pSZztd
Talking Points:
Analyze impacts of external factors affecting our minds

Become aware of our Thoughts, Emotions, Feelings

Identify inhibitions in developing learning mindset

Identify triggers causing harm to mental health and learn to create distance

Make conscious efforts and decision to change for better
Who Should Attend?
Managers who want to lead with empathy and provide a secure environment for their team

Managers who want to leave a positive impact on their team

Any individual who is seeking personal & professional growth