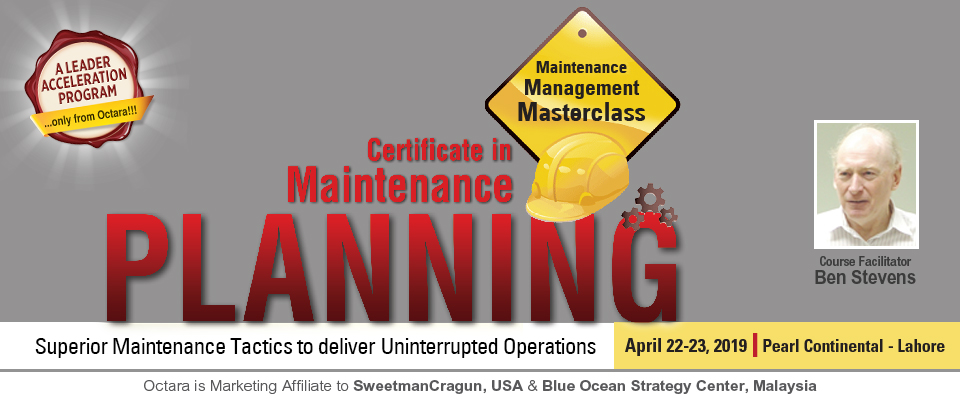 Program Overview:
This two-day Advanced Maintenance Planning program is the first in a series of professional level programs in our Maintenance Management Masterclass series, led by Ben Stevens-a recognized leader in the field of Physical Asset Management Training.
The course will explore the essential steps in building a solid, but advanced, process for delivering practical Planning and Scheduling as part of the daily maintenance activities. Following this, attendees will learn the importance of selecting the right maintenance tactics for the right asset management situation. Techniques for choosing the right tactic will be learned, as well as methods for evaluating why each tactic is the best.
Course Facilitator: Ben Stevens
Key Benefits:
On completion of this course, delegates will:
UNDERSTAND how Planning and Scheduling will affect the performance of the Maintenance Department

HAVE EXPLORED and discussed best practices in relation to Planning and Scheduling

HAVE LEARNED about KPI's for Planning and Scheduling

BUILD a self-development plan that are directly applicable to their own workplace

UNDERSTAND the different maintenance tactics and how they best fit the type of equipment's and equipment failures

LEARN how to select the right tactic and when to use it to increase reliability and reduce failure

EXPLORE practical examples of how to measure the effectiveness of tactics
Who Should Attend?
Maintenance Engineers, Senior Technicians and Specialists

Mechanical Engineers, Electrical Engineers, Civil Engineers

Plant Managers, Production and Manufacturing Managers

Maintenance and Operations Planning Managers and Engineers

Physical Asset and Equipment Managers, Supervisors and Engineers

Facility Managers, Supervisors and Engineers

Maintenance and Technical Support Managers and Engineers

Inspection Superintendents, Supervisors and Engineers

Warehouse and Parts Managers and Supervisors