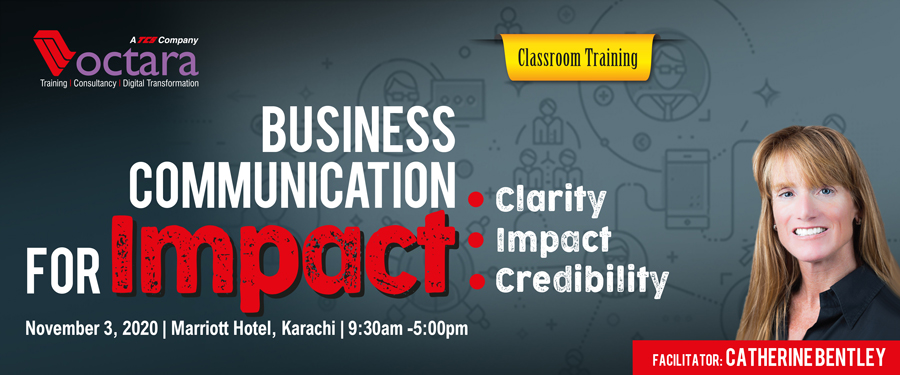 Course Overview
The past 15 years have seen an explosion in the volume and type of communication channels at home and in the workplace. In the commercial context, individuals are now expected to be able to communicate effectively in person, by telephone, Zoom, Skype, Teams, email, reports, in presentations, webinars – not to mention the plethora of social media platforms.
COVID-19 has changed the working environment – many more people are working remotely and organizations and teams need to bridge any real or perceived communication gaps that this may present.
The aim of this program is to develop the knowledge, skill and attitude of colleagues in order to improve all aspects of business communication skills and developing personal presence within the organization.
Course Facilitator: Catherine Bentley
Key Benefits
Through a blend of discussions, activities and case studies, participants will
UNDERSTAND the differences between verbal and non-verbal communication
RECOGNIZE the principles of persuasion in all business communication types
APPLY assertive style in communication
APPRECIATE the Power of Language and Plain English for impactful communication
IMPROVE listening skills
RECOGNIZE different forms of non-verbal communication
IMPROVE their ability to deliver and receive constructive feedback
ELIMINATE common communication roadblocks
ENHANCE levels of empathy in interaction internally and externally
EVALUATE their own strengths & development areas
INCREASE confidence in communication skills
Who Should Attend?
Individuals required to communicate in a commercial environment both verbally and written formats

Anyone wishing to improve the professionalism and effectiveness of their business communication to support career progression