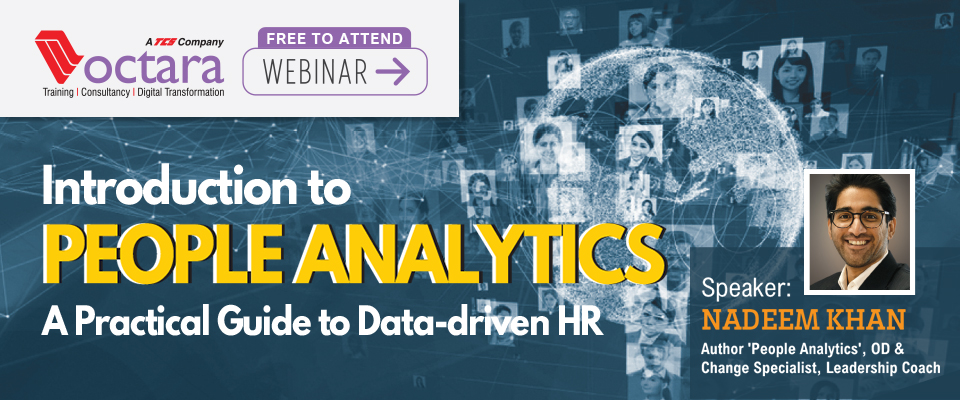 Program Overview:
Octara – A TCS Company presents
FREE WEBINAR – Introduction to People Analyticsby Nadeem Khan (UK)
8-July 2020 at 2PM PST on LINKEDIN LIVE
People Analytics has become a crucial part of decision making in business. In the digital age, we are witnessing a huge raise in big data and analytics. All this data is being used by organisations to inform business and strategic decisions to improve organizational performance.
In this 1-hour session, we will understand the important role People Analytics plays and how HR professionals can get to grips with analytics; feel confident in their ability to handle employee and organizational data and use analytics to move from opinions to insights.
Speaker:  NADEEM KHAN
Author 'People Analytics', OD & Change Specialist, Leadership Coach
Managing Director of Optimizer Ltd, a data and people analytics solution provider
Consultant for organizational strategy, digital transformation and the future of work
A regular contributor to People Management and Entrepreneur magazine
Over the past decade, he has advised and worked with many of the world's best known organizations on improving their performance
Key Take aways:
UNDERSTAND the importance of using Data and Analytics for decision making for the business
IDENTIFYING key Data Sources from within and outside the organization
ROLE People Analytics play to improve organizational performance
To join LINKEDIN LIVE, please click here:
https://bit.ly/3hSWG6O
Introduction to People Analytics by Nadeem Khan & Dave Millner
A conversation about the book with leading analytics expert Dr. Max Blumberg: https://youtu.be/Uez4suOWTT0