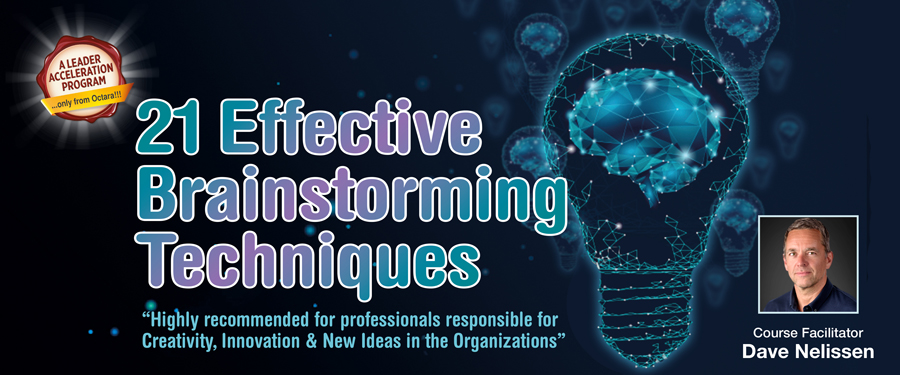 Course Overview:
In the dynamic business world of today you need to come up with better ideas in less time to stay ahead of your game.
Better ideas for innovation within your company

Better ideas on effective marketing of your product

Better ideas for sales in a new market or target group
Many of us have experience with brainstorming. But often this process doesn't lead to satisfaction and the energy needed to get the right idea towards a successful execution. The Effective Brainstorming Technique workshop will provide you 21 concrete tools for creating and selecting better ideas.
Join the over 2.000 business professionals worldwide who have been participant in this highly rewarded workshop to get more creativity and innovation in your business DNA.
Learning Objectives
LEARN more about the way brains work in the process of creativity,innovation and creating ideas;

UNDERSTAND the 21 diverge &converge brainstorming techniques;

BE ABLE to set up and direct effective brainstorming sessions;

ENABLE to get better ideas in less time for yourself, your team and your company.
Course Facilitator:  Dave Nelissen
Who Should Attend:
Management professionals who want their teams to come up with the right answers on creativity and innovation.Marketing professionals who like to come up with better ideas one effective marketing.
Creative professionals who strive for original ideas and more effective execution of their ideas.
Sales professionals who are searching for creative and innovative ways to approach their target groups.