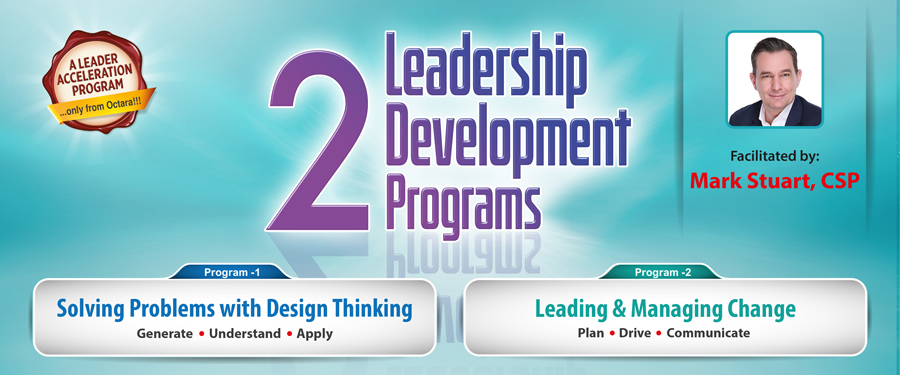 Course Overview:
A 2 Leadership Development Programs consists of a course on Solving Problems with Design Thinking and Leading & Managing Change by Mark Stuart, CSP.
Solving Problems with Design Thinking: With disruption imminent in the business world, knowing how to innovate is crucial for an organisation's survival. Design Thinking provides a solution-based approach to solving problems and has become extremely popular as an approach for innovation and work improvement.
In this interactive, 1-day workshop, learn how you can solve workplace challenges, generate creative ideas and apply key tools and frameworks involved in Design Thinking.
Leading & Managing Change: Learn how you can plan, drive, and communicate change within an organisation,understand what you can do to eliminate fear of change, and howto make change last. It will focus on both the mindset required,together with a practical framework that can be applied to ensure maximum chance of success.
Who Should Attend:
Senior-level executive leaders who need to acquire necessary knowledge and tools to lead their companies/business units in adopting new models and processes

Team Leaders in charge of strategizing and implementing Innovation

Senior-level executive leaders who want to create value through reframing and driving organizational change

Cross-functional executive teams who are tasked with reframing and driving organizational change
Course Facilitators:Mark Stuart, CSP
Keynote speaker on Leadership in a Digital Age, Innovation & the Future of Work